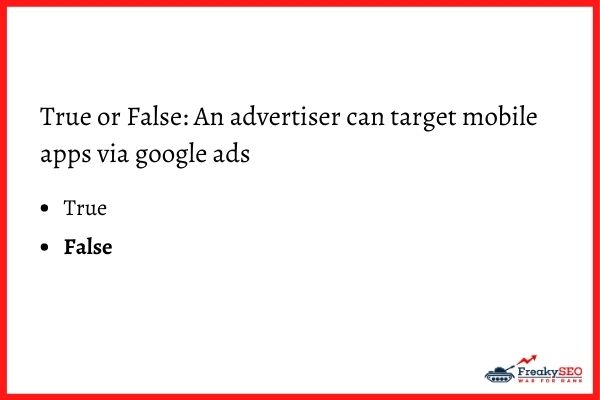 True or False: An advertiser can target mobile apps via google ads
The Correct Answer is:
False
Explanation:
Google Ads no longer supports targeting to app inventory using device settings and adsenseformobileapps.com placement.
Read more here: https://support.google.com/google-ads/answer/1722057?hl=en
Display your apps in Mobile ads
Google has simplified the option of mobile ads targeting and exclusion controls because of a growing database of mobile users.
Content exclusion ("G-mob mobile app non-interstitial" exclusion) has been replaced by simplified device targeting options of computer, tablet, and mobile.
You can control which publishers or types of content your ads appear on using:
Topics
Device targeting: computer, tablet, mobile
App category
Individual app exclusions via placement exclusions for mobile apps, and individual website exclusion
Content exclusions
How to target mobile apps categories and specific apps?
To set up your ads in specific mobile apps, you can indicate that in your targeting settings:
Sign in to your Google Ads account.
Look for an option of Display campaigns in the navigation panel. Click on that.
Click on the Placements option available from the navigation panel on the left.
Choose the ad group you are looking to modify.
In Order to target specific categories, expand the app stores under "App categories" and select the categories you want. These categories match the category names in each store.
If you are looking to target specific apps, click Apps, then search for the apps by name.
If you know the IDs of the apps you want to target, click "Enter multiple placements" and then enter the IDs in the following formats:

Google Play apps: mobileapp::2-<your package name, found in the Google Play store>
For example, mobileapp::2-com.example.app
iOS apps: mobileapp::1-<9-digit numeric app ID>
For example, mobileapp::1-123456789

Click Save.
Hope we have answered your question, 'True or False: An advertiser can target mobile apps via google ads'
Leave your comment below if you need more information.
Author:

FreakySEO
FreakySEO is all about the list of great tools, tips and tricks to create ideas, strategies and quality content.